We are a regular at the Real Food Ilkley market- look out for the new November date following the cancellation of the 1st November market. We'll still have our freshly made tarts, salads, scotch eggs and of course our award winning cake!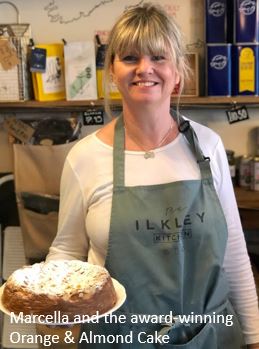 The Ilkley Kitchen has quickly become a customer favourite at Ilkley's Real Food Market with a growing loyal fan base.
All products are sourced and cooked locally by Marcella, the owner of The Ilkley Kitchen in the heart of town. Supplying cakes, bakes, soups and more to cafes, restaurants and homes, including the much-loved Ilkley Cinema and J Reserve. Lock down paused the wholesale side of the business  but on the plus side, Marcella's delicious, award-winning food became available to deliver joy to your home! Now that things have eased, you can still order, collect or take delivery, but while Eat Out is available throughout August, you should take advantage of the discounts available at all three of the above venues.
The award? An outstanding Great Taste Awards three stars acclaim in 2019 from The Guild of Fine Food, which hosts the world's most trusted and respected food awards, tested by a panel of over 500 home and international experts. Marcella's winning Orange & Almond cake is fat and flour free. The three stars signifies 'the best of the best' at these annual food Oscars.
The Yorkshire Ice Cream company from Masham achieved one star in 2018, no mean feat, so we are lucky to have the three starred Ilkley Kitchen so close to home.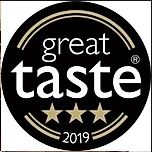 All food is cooked safely, ensuring strict hygiene rules are always followed. A concise list of ingredients, allergens and instructions for cooking will be given in plastic-free takeaway containers. Food will be dropped to your doorstep without any contact.
Click here to view menu and order with Pronto
Tap to call - 07813 989 817
Print
Tap to email
Visit our Website
visit our Facebook page