The November Real Food Ilkley market on Sunday 1st November has been cancelled due to high winds forecast- new date to be announced.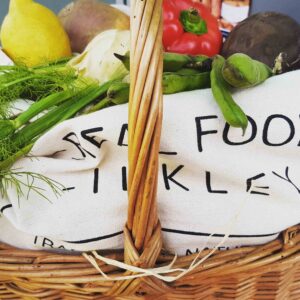 Opening times are 10am to 3pm
Changes have been put in place to ensure everyone's safety with volunteers on hand to ensure physical distancing, stalls more spaced out and signs displayed reminding everyone to keep safe. Bradford Council's Emergency Planning Dept have given RFI the all clear to continue until further notice.
Sadly, one of the great features of the market, sampling, won't be currently permitted and card payments are strongly encouraged. If the market starts to get busy, customers will be asked to wait outside the area until it is safe to enter.
The market features regular stalls and guest stalls which are announced in the week before the market, as well as a number of changing community group stalls.
Guest stalls for the October market were:
AC Telfer Fine Art (paintings, prints, including limited edition, and cards);

Bree's Teas (organic herbal teas);

Cakes Enterprises (Italian sweet bakes and desserts);

Caterpillar Catering (pre-prepared frozen meals for heating at home,




plus vegan, meat and veggie food to go and chilled grub tubs);

Corelli Wine (Greek natural and organic wine);

Hammond Charcuterie (handmade charcuterie made from wild venison, pasture fed goose, free range rare breed pork, wild game bird meat,




and conservation grazed primitive breed mutton);

Happy Hogs Catering (hog roast or beef in a bun / Yorkshire pudding wraps);

Heart of Sicily (Aranchini in various flavours, Calzone, Cipollina, Raviola, Cassatina siciliana,

Sicilian Cannoli with the choice of ricotta or chocolate crème);

Little Box Kitchen (various homemade sponge puddings and sauces);

Low Springs Milk (farm milk, flavoured milks and selected dairy products);

Por Favour (range of homemade fudge including options for vegans);

The Gourmet Scotch Egg Company (wide range of scotch eggs);

Wharfedale Candle Company (wide selection of hand poured candles);

Woodcutter Creations (chopping boards and wooden homewares, Christmas models and decorations);

Yorkshire Crafts (handmade doorstops, lavender sachets, personalised angels and gift sets).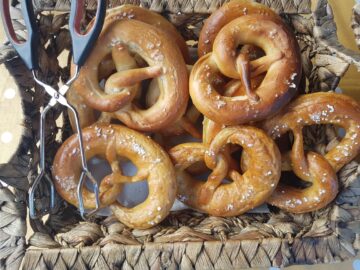 Regular stalls attending in October:
Church View Eggs (hen, duck, quail and goose eggs);

Commute (coffee and tea);

Condimental (homemade jams and chutneys);

Cossack Cuisine (traditional Russian savoury and sweet delicacies including Borodinsky bread loaf, Russian salads and Russian Xmas Pie);

Garth Cottage (own grown herbs and plants for culinary use, plus a range of herb infused oils and vinegars and dried chillies);

Gerhard's Pretzels (sweet, savoury and filled pretzels and pretzel rolls);

Gluten Freekz (gluten free savoury and sweet products and ready meals);

Greenhouse Café (Sweet and savoury vegan goods);

Hel's Bowls (homemade soups – veg and fruit – to eat now and at home);

The Holy Smokery (smoked produce including apple vinegar, trout, duck, ham, chicken and bacon);

Ilkley Brewery (handcrafted local beers);

The Ilkley Kitchen (wide range of sweet and savoury pies, salads, quiches, tarts and more);

Kandy Kitchen Creations (packs of dry ingredients for soups, stews, risottos and puddings);

King Olive (olives, Turkish delight and Baklava);

Lasagnas on the Road (fresh lasagnas made with a range of meat and vegetarian fillings);

Leeds Bread Co-Op (traditional baked sourdough and yeasted breads and bakes treats);

Lily and Rabbit (goats' milk soap, shampoo and shaving bars);

Love Brownies (range of brownies and bites);

Marsh Top Meats (huge range of rare breed meats to cook at home plus bacon and sausage butties to enjoy at the market);

Really Indian (curry sauces, marinades and Indian snacks);

Secret Truffles (handmade chocolate truffles);

Shire Honey (honey mead and pollen);

Sun Street Eats (range of freshly made paellas);

The Organic Pantry (organic fruit, veg and eggs);

Third Wave Coffee (locally roasted coffee beans fresh or freshly ground, fresly made coffee to go);

Tricky Dickie's Sticky Toffee Pudding Company (sticky toffee puddings, muffins and flapjack);

TruFoods (croissants, scones and filled pies and tarts);

Wharfedale Fine Cheeses (huge selection of Yorkshire, British and European Cheeses plus artisan biscuits to serve)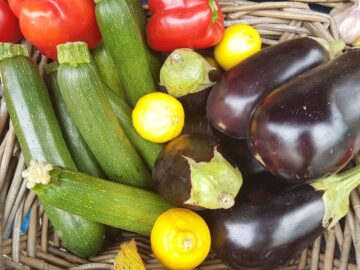 Three community groups took part:
Woodland Trust
The stall was used to raise the profile of the charity and had information on local woodlands,
walks and community projects. You can support the charity by becoming members.
Ilkley Clean River Group
An informal Ilkley-based group, lobbying to achieve clean and safe water in the River Wharfe-m now, not tomorrow. 
They commented "We have proven to the relevant bodies (Environment Agency; Defra; Yorkshire Water etc) that the water
is not safe or clean and we want them to act to clean it up. We have the support of Ilkley Town Council,
Bradford Council, our MP, thousands of local residents and many others. We recognise it is a big and complex task
and impacts on many different parts of our town, particularly when it is sunny and many people come to the river
to enjoy it. Please come along and support us!"
Ilkley Civic Society
The organisation exists to promote high standards of planning and architecture, raise public awareness of Ilkley's history, geography, natural history, architecture and conservation, and improvement of features of historic or public interest.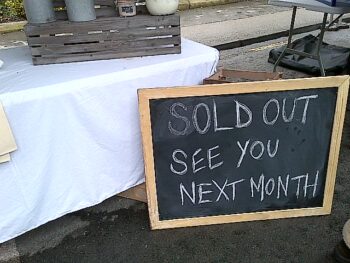 I
Go Loco will post details of the revised November market as soon as we are able. When we let you know, 0ur advice?- from experience, don't miss out on the great stuff on sale, get there early!
Print
Visit our Website
visit our Facebook page