12th October now, and the fresh lockdown we thought might happen blew over and went west.  
You'll still need hand sanitiser at the ready for Trick or Treat and face masks for the pumpkins.
If bob-apple wasn't a thing of the past, it certainly is now.
The positives?
Amongst others, The Grove Bookshop is hosting events again and their music department has a big sale going on.
Majestic Wine Ilkley have more great deals this month
Embsay Railway is a great destination during half term and for the rest of the year.
  Look out for these new and exciting promotions on Go Loco in October and beyond.
And remember, in these trying times, stay safe, stay well and be alert to local business!
Go Loco 

Latest Featured
Majestic Wine IlkleyNew ideal for October - top wines at only £9.99 with up to a third off per bottle- and the contimuing excellent deal on Corona beer!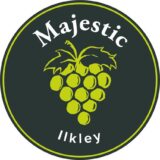 View details
Home Page painting by Peter Langtry Langton RIBA